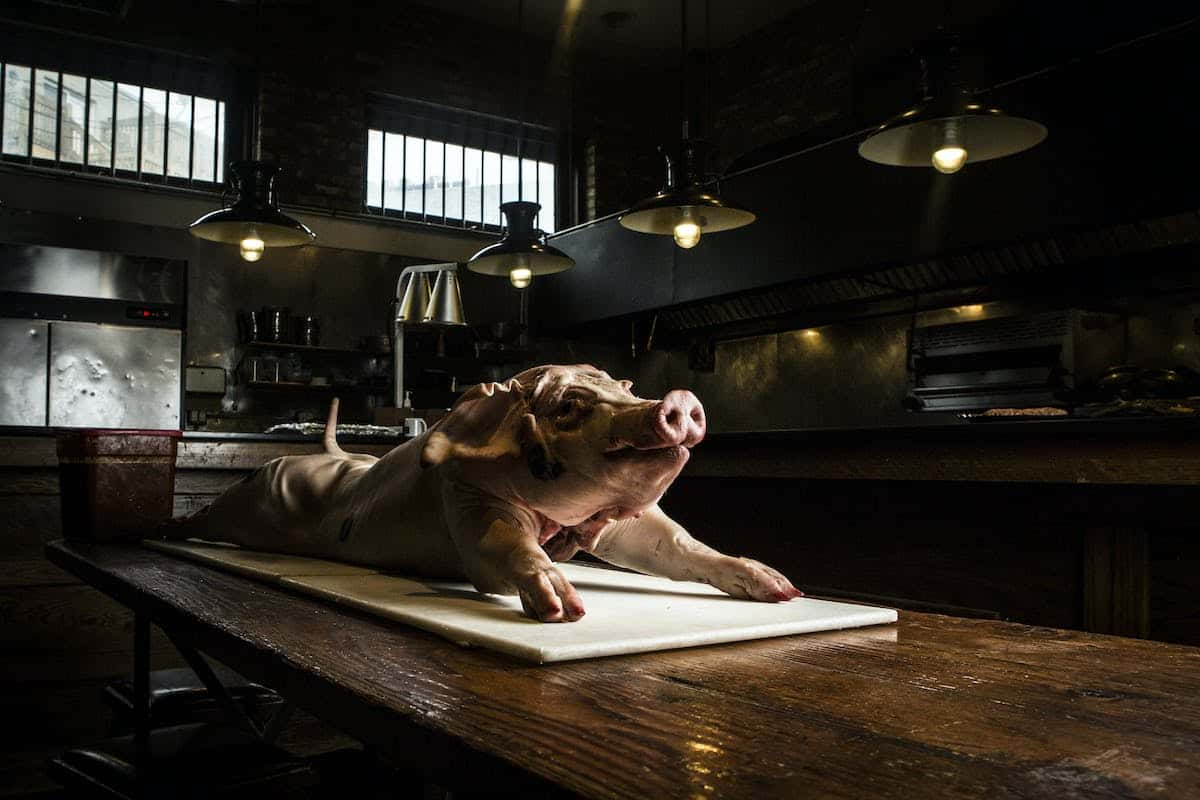 Whole Animal Experience
Frequently Asked Questions
How can I book a private room for my group dinner?
Please contact jen@pioneertaverngroup.com to inquire about pricing for a private or semi-private space, for groups of 30-100 guests. Groups less than 30 will be seated at one long table in our main dining area.
How do I confirm my whole animal/large format meal reservation?
The most important step to confirming your reservation is emailing our events coordinator to ensure we block off a table/area for you so you may get your preferred reservation date/time/space. We will confirm your reservation with a $250 deposit. Reservations are not officially booked until the deposit is received.
What if I don't know my exact guest count right now?
That's fine! We may go ahead and block off a table/area for your group based on your estimated max guest count within a 5-person range.
Do you charge a deposit to book a whole animal reservation?
Yes, we require a $250 deposit to confirm your reservation in our system. The deposit is taken off your final bill and is non-refundable if you cancel within 7 days of your reservation or do not show the day of your reservation. If you cancel before the 7 day period, the deposit will be refunded.
Does the whole animal come out with the skin on? What about head on?
The pig is the only animal that comes out with the (crispy!) skin on, however it is not edible after smoking for hours. Every whole animal but the wild boar comes with the head on. If you really want to try the head meat experience but would like to order the boar, a roasted pig head may be added for $65 to your meal.
Will I have a private area for my whole animal reservation?
Unless you are buying out one of our event spaces entirely – each one independently seats about 100 people max- your group will be seated at a table(s) in one of our three event spaces. If you have a preferred area where you'd like to be seated, please be sure to tell our event coordinators when booking your reservation. We will do our best to accommodate your special request.
How long do we get to keep our table?
All whole animal dinner reservation seatings are 2 1/2 hours and tables are usually re-booked after this time (especially on weekend nights) so we appreciate you being punctual.
What other group dining packages do you have for under 12 guests?
Any of our large format dinners are available for groups under 12 guests along with our per person family-style packages.
Are tax and gratuity included in the prices?
11.75% sales tax and 4% service fee are not included in the whole animal/large format meal prices and are added to your final bill. 20% gratuity is added to all parties of 6 or more.
What if we have vegetarians in our group?
Invite them! All of the side dishes served with the whole animal and large format dinners are vegetarian. We also have a variety of vegetarian entrees on our dinner menu that guests may order individually.
Do I have to order extra side dishes if I have over 15 guests?
It's not mandatory but we encourage it as there is always extra meat, but the side dishes are only portioned out for 15 people as that is our most common party size. You could alternatively order some appetizers from our dinner menu to start off your meal and ensure your guests will be well-fed.
Will we have the beer garden patio all to ourselves?
Our Beer Garden patio accommodates 100+ guests so parties with less than 100 people will be seated at designated tables within the space. The Beer Garden may be reserved for a completely private event (called a buy-out) by contacting our events coordinator and this will require 70-100 guests with a minimum spend requirement.
Is the beer garden covered in the winter?
Yes and features industrial heaters as well. The Beer Garden is fully functional even when the weather in Chicago isn't! We seat people here year-round and inclement weather is not a problem as the roof is retractable.
What kind of experience can I expect?
This is by far the most unique and fun way in Chicago for large groups to dine together family-style! Upon your arrival at Frontier, please check in with our hostess at the front entrance who will escort you to your table area. Once you've been seated, your designated server(s) will take your guests' drink orders, as well any appetizers you might want.
The animal you have ordered will be served whole to your table about a half hour to an hour (on weekends/more crowded nights/if you're ordering appetizers) after your reservation start time. Please keep in mind these are estimated times and we appreciate your patience with this service should we be busy. Also, please note we cannot 'hold' serving the whole animal (past a ½ hour after your reservation start time) until all of your guests arrive. In order that they don't miss out on any of the experience, please ask your guests to be punctual. One of our chefs will carve the whole animal or large format meal you've chosen table-side while your guests will surely be snapping photos of the feast they are about to enjoy.
The different meat cuts are carved and placed on platters to be served family-style at your table along with the four vegetarian side dishes included in the package price: 5 Cheese Mac, Caesar Salad with Polenta Croutons, A Seasonal Vegetable Medley and Buttered Dinner Rolls
What is Frontier's cancellation policy?
Whole Animal Parties: 7 day cancellation. Your $250 deposit in non-refundable if cancelled within 7 days of your reservation.
Non-whole animal parties: 2-week cancellation. Your $200-$500 deposit is non-refundable if cancelled within 2 weeks of your reservation.
Where do you seat large groups?
We seat our whole animal dinners in our main dining area (main dining area + Beer Garden) and the space is not private but shared with other diners. We have a 2nd floor party lounge that can accommodate 100 guests and we require at least 30 people to reserve this space for a food and beverage minimum.
How does payment work? May we request individual checks?
All drinks, any additional food/desserts ordered, 11.75% tax, 4% service fee and 18% gratuity are not included in the above mentioned prices, and will be added to your bill at the time of your reservation. We allow a max of 2 credit cards per table, split evenly. We limit the amount of tabs opened so that we may increase the efficiency of your service.
Are cakes/outside desserts allowed?
You may order macarons, cookies or a customizable cake from our dessert menu with a 5 day lead time. Please inquire for specific options and pricing. If you would like to bring in your own dessert, you may do so and we charge a cutting fee of $2/person. You may bring in the dessert with you and it cannot be stored or delivered beforehand.
Please note our decorating policy: Only balloons and table top decor items are allowed – nothing mounted and no confetti; Tape/nails/hooks/push pins etc, are not allowed to be used on any surface at Frontier; Decorations are to be displayed upon your arrival, or 10 minutes before your scheduled reservation time when your table/area is open; Frontier is not responsible for any damage to decor items.