Main content starts here, tab to start navigating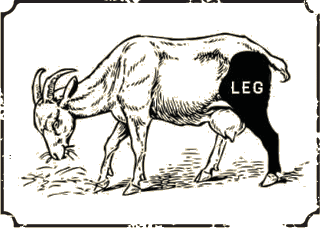 Frontier's Select Trio
An expansion of our popular Goat/Boar/Wagyu Menu
COOKING METHOD
Frontier Select Trio (an expansion of our previous Goat/Boar/Wagyu menu) choose your protein–great for groups who just can't decide on just one! Choose three of the following proteins: Lamb Leg, Goat Leg, Beef Shank, Short Rib, Wagyu Beef Short Loin, Salmon Filet and/or Boar Shoulder for $400, serves 10-12 guests. You may also upgrade your third protein to a Venison Leg (+$150) for a total of $550 or Antelope Leg (+$300 and serves 12-16 guests) for a total of $700. Feel free to add both upgrades for $850!
All carved table-side.
SIDES
5 cheese mac, Caesar salad with polenta croutons, Seasonal vegetable and Buttered dinner rolls.
PREORDER
5 days minimum
SERVES
10-16 adults
$400 not including add ons